Peter Marsh
@
Establishing and implementing the most suitable and relevant turnkey warehouse design from the outset can have a profound influence on the useful life of the facility, it's capacity and productivity, and of course, significant financial benefits.
Modelling a range of options to determine an appropriate design, Warehouse Storage Solutions can build a picture of what you can expect from a warehouse during periods of typical and peak-activity from go-live; whilst simultaneously including specific agreed planning horizons for individual client requirements.
Warehouse Storage Solutions will design a suitable and flexible facility, considering future business growth pans to ensure warehouse operations can adapt to changes in volume and product-type. Modelling a range of options to arrive at an appropriate design.
At Warehouse Storage Solutions we have a detailed knowledge and understanding of what is required to operate an efficient distribution centre, warehouse and picking/dispatch operation. Our in-house CAD facilities enable us to provide our clients with accurate turnkey quotations for supply and installation.
We regularly work with our clients in establishing:
New build design and re-configuration of existing warehouse, picking and distribution facilities
Facility sizing and Distribution Centre (DC) capacity assessment
Optimised facility CAD designs/layout, handling practices and workflows
Automation and materials handling systems specification, development and implementation
Systems and equipment specification, procurement and implementation
Work closely with the preferred MHE provider to ensure the solutions integrate without any problems
Project management and risk minimisation
Our design team use AutoCAD software that is capable of assisting planning from simple storey building racking layouts to more complex multi-level facilities with automated handling conveyors and has been proven on various client projects over many turnkey projects.
The ability to easily change drawings gives our clients a choice of layouts to optimise workflows; enabling them to develop their warehouse processes and standard operating procedures in line with supply chain and logistics strategy requirements.
Turnkey Pallet Racking, Pedestrian Barrier & Line Marking Layout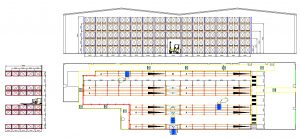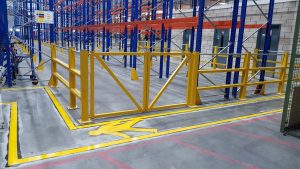 Turnkey Mezzanine Floor with Sprinklers, Lighting & Smoke Detection to Underside & Longspan Project & Rack Identification Labelling On Top of the Mezzanine
If you would like one of our experienced team to assist you and provide advice on how best to utilise the space in your warehouse with a turnkey solution made for you, call us today on 01482 819057 or email sales@warehousestoragesolutions.com to arrange a no obligation visit.